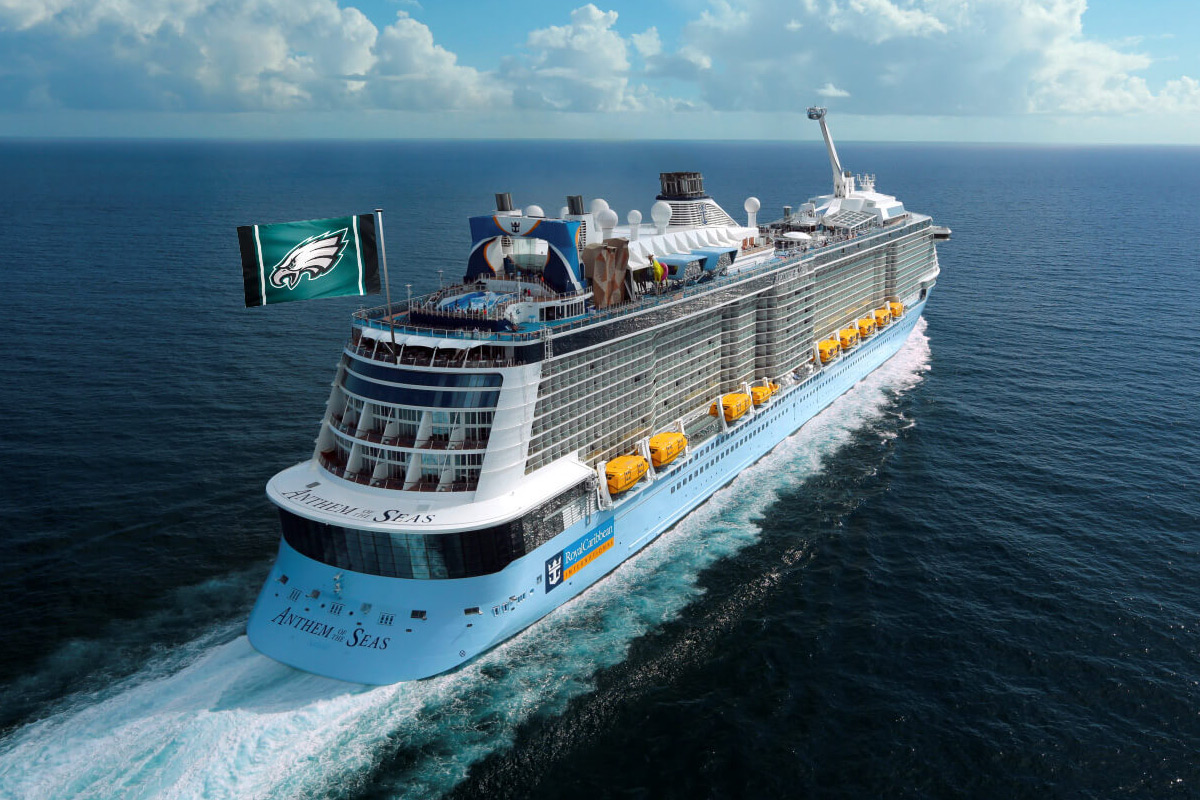 Get excited people, because the inaugural Philadelphia Eagles Fan Cruise is setting sail from March 21-28, 2021 on Royal Caribbean's Anthem of the Seas, and it's going to be the trip of a lifetime for die-hard Eagles fans!
Hobnob with 20 of your favorite Eagles players & alumni, including legends of the past and stars of today (including Reese, David Akers, Harold Carmichael, Vince Papale, Mike Quick, Merrill Reese, and Jeremiah Trotter), and participate in countless Eagles themed events and activities, parties, meet and greets, photo opportunities and much more.
"This is the ultimate experience for any Eagles fan. We are always searching for new and innovative ways to bring our fans closer to the team, so we are excited to announce that this new partnership with First Class Cruises enables us to do that. Sailing on the Anthem of the Seas, one of the world's most exclusive and premier cruise ships, will offer that once-in-a-lifetime opportunity every Eagles fan has dreamed of," Catherine Carlson, Philadelphia Eagles Senior VP of Revenue and Strategy, said in a release.
For those of you who aren't cruises, you're in for a real treat, as the Anthem of the Seas is one of Royal's newest ships, and it's got it all. From upscale entertainment and meeting spaces to the first skydiving simulator at sea, this vessel promises a relaxing atmosphere paired with ultra-modern facilities. Order cocktails mixed by robots at the Bionic Bar and take in a Broadway-style production of We Will Rock You. Grab a workout in the state-of-the-art fitness center or get your energy out by scaling the rock-climbing wall. For a fun afternoon, enjoy the bumper cars, roller skating and more.
A buddy of mine did a similar cruise to this with the Pittsburgh Steelers years ago, and he had an absolute blast, getting to meet some of his football idols, not to mention hanging out with fellow die-hard fans like himself. It's awesome to see the Eagles finally putting together something like this!
It looks like pricing starts at $1650 per person for an inside stateroom, while a large suite will set you back $3600 per person. (Plus applicable taxes/fees) Rooms are going fast, so if you want in on this, don't wait too long to reserve your spot on this epic cruise!
Photo credit: PhiladelphiaEaglesCruise.com