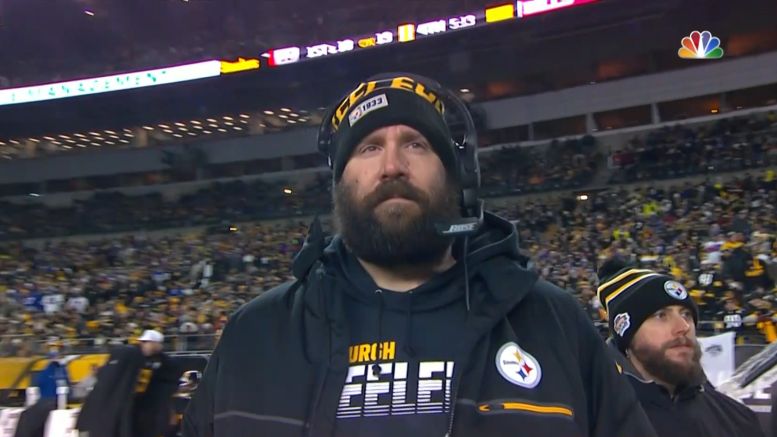 Pittsburgh Steelers quarterback Ben Roethlisberger posted a PSA about the importance of social distancing during the coronavirus and the things you can do at home during the lockdown, but all anyone could focus on was his insane beard action!
We first got a glimpse of Big Ben's mountain man look when cameras zoomed in on him on the sidelines during a primetime game.. And while it was a bit jarring, it wasn't all that bad, as you can see above.
Fast forward to this week, and holy crap, what a difference a few months make. Just take a look for yourself in the video below:
As you might imagine, the comments started up fast and furious, with people comparing Roethlisberger to Tom Hanks in Castaway, Evan Almighty, Hagrid, Forrest Gump, Moses and others. One guy even said it looked like Big Ben had been trapped in Jumanji for the last 20 years, that one had me rolling. 😀
So what's the deal with that crazy beard action? As you might remember, Roethlisberger had to undergo elbow surgery, forcing him to miss most of the NFL season. That's when he decided to start growing out his beard.
"When we were flying to Los Angeles for my surgery, I told my wife I wasn't going to shave my beard or cut my hair until I can throw an NFL-caliber pass again," he said. "She can't wait. She's ready for it to come off. Maybe in another month or two."
Roethlisberger is said to be well on his way to recovery, so hopefully we'll be seeing a clean-shaven Big Ben on the field sooner than later.. assuming there's even a season, given this whole coronavirus nightmare. Fingers crossed!
May 18, 2020 Update – Big Ben just showed off his newly-shaven face on Twitter:
Feels good to be back out there with my guys! @TeamJuJu @JamesConner_ @Switz pic.twitter.com/hAlOwr7Ias

— BigBen7.com (@_BigBen7) May 18, 2020