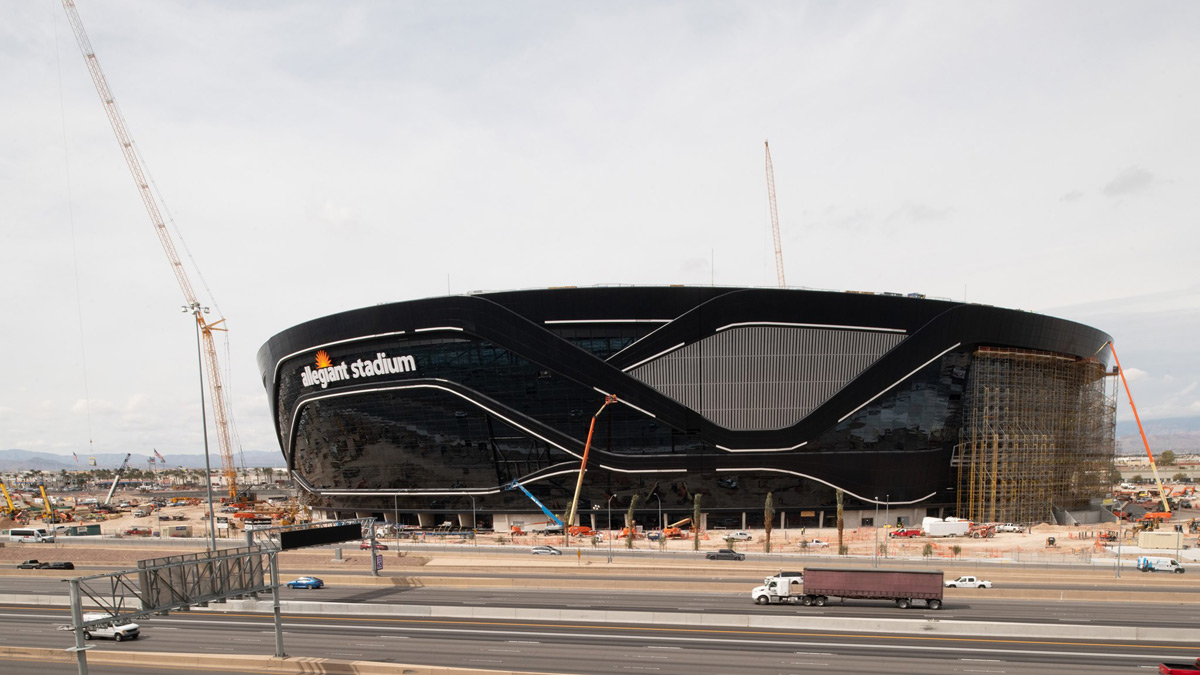 The Raiders' new Las Vegas stadium (Allegiant Stadium) is coming along nicely, and they aren't letting the coronavirus pandemic slow them down one bit. I was just in Vegas last month, and I was amazed at how far along it was.
At the time of my visit, the outside lighting hadn't been turned on just yet. But as you can see from this Twitter clip below, they've lit it up now, and it looks freaking SWEET, like something straight out of Star Wars!
The Death Star is lit! @AllegiantStadm @Raiders @LasVegasLocally @VitalVegas @KTNV pic.twitter.com/AFpfDwY8RT

— Joe Bartels (@Joe_Bartels) April 8, 2020
Fans have dubbed the all-black stadium the "Death Star", and it's a fitting name for sure. The $2 billion stadium is scheduled to be finished by the end of July, so it's all hands on deck to keep things on track, even in the midst of this health crisis. I feel bad that the workers have to put themselves at risk, but hopefully they're staying safe.
Some more information on Allegiant Stadium:
The $2 billion, 65,000-fan-capacity — expandable to 72,000 — indoor stadium located just west of the Strip will be a needed upgrade from Oakland's RingCentral Coliseum, opened in 1966.
The 1.75 million-square-foot facility will have all the features expected in a modern sports stadium and then some when it is substantially completed on July 31, 2020
Allegiant Stadium won't have a retractable roof, but it will have massive retractable doors.
Lanai doors will open to an 80-by-215-foot opening on the stadium's north end, allowing for fresh air and an outdoor feel and offering views of the Strip.
I'm excited to check out a game at the new stadium once it's completed!